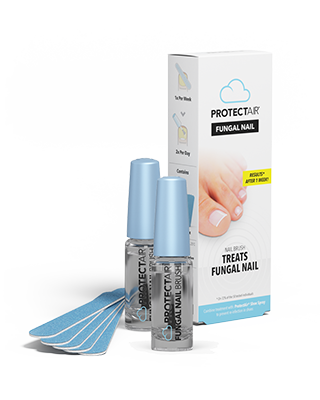 ProtectAir
2x Fungal Nail Treatment (5ml)
4,6 / 5
121 Customer reviews
---
Best fungal nail treatment UK - Protectair is the highest rated fungal nail treatment according to UK consumers and the best sold treatment online in the Netherlands for 2 consecutive years!
Visible results after 2 weeks - 86% of the users experience visible nail recovery within 2 weeks of treatment with ProtectAir fungal nail treatment.
Fungal nail polish - The fungal nail treatment effectively treats the infected toenails.
Prevent reinfection - Combine with ProtectAir shoespray (sold seperately) to protect toenails against fungal nail infection in shoes.
---
Includes
2x 5ml Fungal Nail Solution
2x 5 Nail files
ProtectAir
2x Fungal Nail Treatment (5ml)
SKU: PRO-PROMO-002-EN
EAN: 8719689298838
---