Fungal nail treatment reviews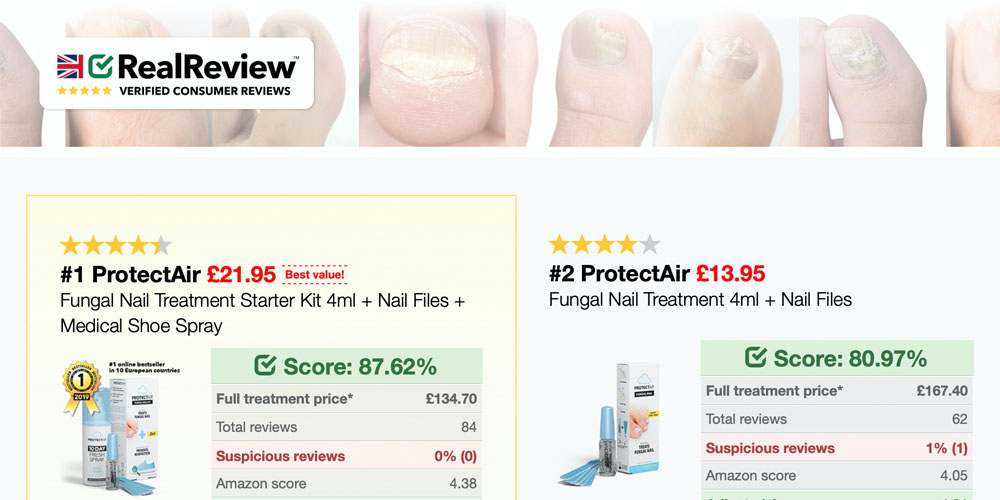 According to thousand of consumer reviews from the United Kingdom:
ProtectAir is the best and highest-rated fungal nail treatment in the UK!
Independent analysis performed by RealReview shows ProtectAir received the highest rating of all analysed fungal nail treatments.
RealReview analyses and filters out fake reviews then ranks consumer reviews based on an adjusted real rating.
Consumer reviews
How do I know these reviews are real?
We hear it all the time in the media: websites like Amazon are full of 'fake reviews' trying to manipulate consumer opinion and product ranking. Mostly done by smaller companies and sketchy brands, however, more recently even major corporations were caught trying to manipulate data.
RealReview
tries to go against this (negative) trend by analysing, filtering and ranking online product reviews.
RealReview
is
the
British consumer platform that not only collects products reviews by consumers from popular websites like Amazon, but also analyses, filters and ranks them according to over 15 variables. This ensures
honest and reliable
information for you to base your buying decision on.
Fungal nail test winner: ProtectAir
The best fungal nail treatment according to consumers
The fungal nail treatment ranking performed by RealReview has analysed
8.500+ reviews
from Amazon UK. After analysis, ProtectAir Fungal Nail Treatment and ProtectAir Fungal Nail Starterkit including medical shoe spray were the 2 clear winners.
Curious to see the full ranking from RealReview?
Visit their site through this link: RealReview - fungalnailtreatments.co.uk
On this page you can read all reviews on ProtectAir Fungal Nail Treatments. Below a small selection:
Alex
Most effective solution treatment on the market
Reviewed in the United Kingdom on 24-02-2020
"I have a tried a number of different products unsuccessfully - this has been by far and away the best and has worked. Excellent and easy to use but must continue for a number of months to maintain healthy nails."
Verfied review: Amazon.co.uk
2x Fungal nail treatment (4ml)
NettieK
It works perfectly for me
Reviewed in the United Kingdom on 13-01-2020
"I am really impressed with this product. My toenail is slowly growing out with no sign of damage to the new growth and I will continue to use on a daily basisMy order was delivered the very next day - perfect service."
Verfied review: Amazon.co.uk
2x Fungal nail treatment (4ml)
Nicola Dawn Cook
It Works!
Reviewed in the United Kingdom on 21-12-2019
"I've tried various other similar products over the years but ProtectAir is the only one that has ever worked for me. It's very simple to use with clear detail on not just what to do, but why. Makes perfect sense! It's taken a few months but my nails are finally looking normal again. I'll definitely use again if the need arises."
Verfied review: Amazon.co.uk
Fungal nail treatment (4ml)